Description
I did this as a exercise after read all Land of Lisp book. By other hand, I did that because was too bored — I don't know if this matters. But, anyway, just another minimal simple chat over TCP sockets without any smart solid protocol (like IRC). It is just raw data from client-to-server and the server broadcast the message for all clients connected.
The whole idea is very simple. The software is separated by client.lisp and server.lisp. While server.lisp is running it listen connections from a specified port (example: 5558) for the clients. In another hand, client.lisp, well… connects at the server and let the user send messages to it. All the messages send to server.lisp when is received, the server do a broadcast to each all the clients connected. Is just like a IRC of a unique room.
Seems very stupid, I know, but actually, because the implementation is so simple, we can give a specie of value on this. BTW, this post was the my first front-end on Hacker News with 114 points. I really didn't expect something like that when I wrote. So, well, this seems has some beauty. Maybe the reason is: software written in Lisp? (HAHAHA)
The system, client and server, is implemented using SBCL (Common Lisp Compiler) and USOCKET (TCP/UDP sockets). Just that. Cool, huh?
Showcase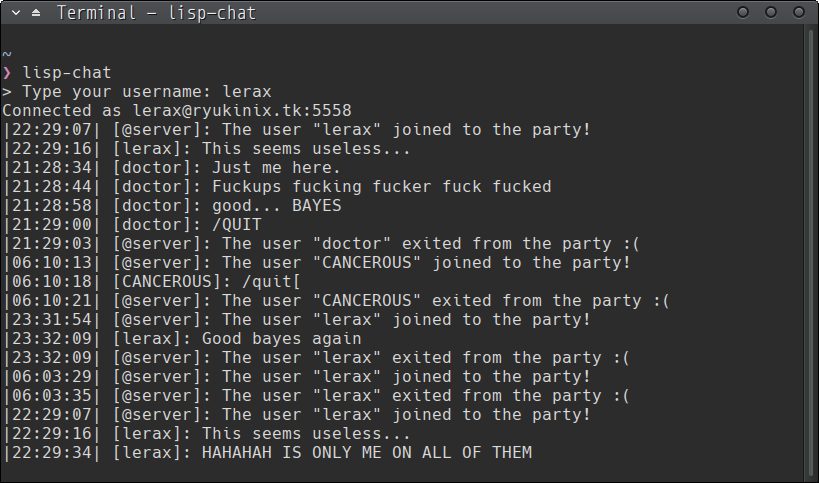 Yes. Only me. Actually on the HN trend day some people clone the project, setup the project and ran it. I just see the log later. HAHAH some guys typing things like (quit) or ls. Very funny. Actually the servers supports three commands non-documented: /users, /help and /log. But don't tell it to anyone.
Ps.: yes after the 22:29:16 I typed /log and old messages comeback.
Source
You can look to the source here on github The minimal instructions to build and setup the project is written on README.md. At least for now, the day I wrote this post a server instance is running at server.lerax.me:5558. As alternative I provide too, for non-lispers, a simple Python client too. Both clients and the servers are configured to running at server.lerax.me:5558.